Littlehampton & District Men's Shed West (LADS West)
SO WHAT IS A MEN'S SHED
Well, the concept started in Australia in the '90s and took off worldwide. Essentially Men's Sheds are community workshops for members to 'connect, converse and create'. The creative activities are often like those that take place in garden sheds, but for groups of mainly retired men to enjoy together. They have been proven to help reduce loneliness and isolation, but most importantly, they're fun! Currently there are 425 active sheds in the UK with a further 105 in development with a membership of over 10,000 under the stewardship of the UK Men's Sheds Association menssheds.org.uk
Littlehampton & District Men's Shed West was established in January 2016.
It currently has around twenty members who meet weekly.
Please view our  our PROJECT and COMMUNITY gallery webpages on this site to see the sort of things we do.
Please click on the You Tube video link below, sponsored by Triton Tools, to see the evolution of the LADSWEST shed. 
ADDRESS: Unit 6, Arun Shipyard, Rope Walk, Littlehampton BN17 5DH
OPENING TIMES: TUESDAY, WEDNESDAY and THURS 09.00 to 13.00
TO CONTACT US PLEASE USE THE INFORMATION ON OUR CONTACT PAGE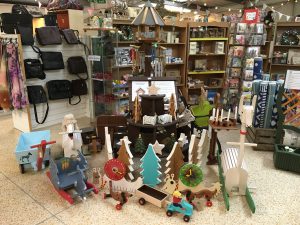 Why not visit our Men's Shed West 'pop up' shop at Baird's Farm Shop on the Bognor Road?
OR
VISIT OUR WORKSHOP IN ROPE WALK ON THE WAY TO THE WEST BEACH